Mass Recruitment
The bot determines the potential qualified candidates and offers them a vacancy that fits well.
When it comes to mass hiring, the HR department receives a lot of irrelevant responses, for instance, applicants must meet specific requirements of the vacancy (documents, certificates, etc), and it takes a long time to filter the potential candidates.
Moreover, potential candidates need to receive a quick answer when they apply for a new job, especially since we are living in a highly competitive market nowadays.
We made a bot template that helps to determine the qualified applicants, smart and personally sell them a vacancy, and schedule an interview.
How will the bot solve these problems?
Clarifies the expectations of the candidates.
Talk about the opportunities and benefits of working for the company (based on expectations).
In one click, save the name, and contacts and send the data to the HR department. You just have to contact the candidate and discuss the details.
When is it beneficial?
There are a lot of responses to vacancies and you spend time analyzing, and filtration in order to choose suitable candidates for the next steps.
You need to respond quickly to potential candidates.
Candidates need to be assisted in preparing documents.
Difficulty level: Easy - can be configured by any user.
Setting time: 2 hours.
Versatility: high - suitable for hiring couriers, sellers, drivers, loaders, builders, and other professionals.
How does it work?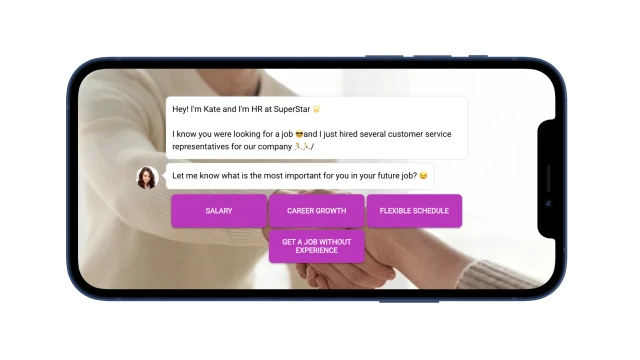 The script is launched by a link or a QR code. The bot on behalf of an HR specialist offers Customer services representative vacancy and finds out the most important job requirement of the candidate.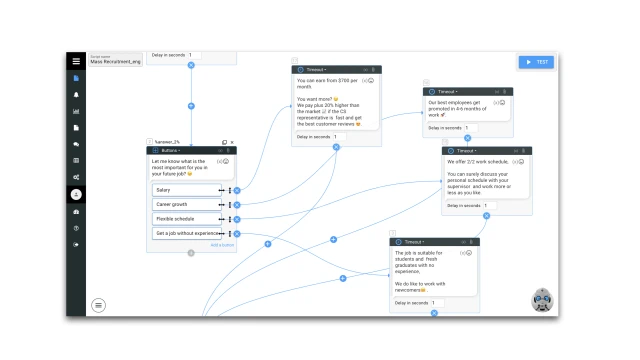 Based on the user's response, the bot sends a message about the advantage of the vacancy. For example, if a flexible schedule is critical to a candidate, the bot will describe suitable options.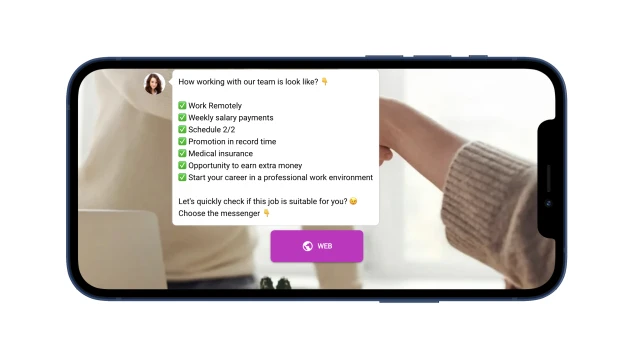 Furthermore, the bot talks about the possibilities of working in the company, registers the user in the system and offers to leave his data in order to transfer HR. The bot will send all the information directly to the mail of the HR specialist.
What to do with this template?
1- Create a bot design: customized questions, choose a background, avatar, and font.
2- Set up notifications to your mail through the "Notifications" block. 3- Add the "answer" variable (user responses) to your email and email content.
4- Decide how users will run the bot and set it up. On the website - place a link or a QR code to the bot where your target audience may be interested in your vacancy.
Test the bot.
If you have any questions, do not hesitate to contact us in
Telegram