Exit interview
Chatbot conducts exit interview and collect feedback from the employees, who are planning to leave the company.
Exit interviews could be a bit uncomfortable. People give socially-approved answers, which is why HR and managers do not see the real problems and reasons for leaving, and therefore cannot set a proper solution for them.
We came up with a solution that helps you get honest feedback about your work in the company automatically.
How will the bot solve this problem?
Engage employees in a short chat with a bot and explain why it is important to answer questions honestly and what the employee will get in return.
It offers a menu of questions from which you need to choose an option.
Collects feedback and save it to a spreadsheet so you can analyze the results.
When is it beneficial?
You have a high turnover rate and you do not have time to conduct interviews.
You have a lot of offices and interviews are not conducted well.
Employees in the exit interview do not provide helpful information.
Difficulty level: easy - can be configured by any user.
Setting time: 3 hours.
Versatility: Suitable for HR professionals.
*This is an example of an exit interview questionnaire that needs to be modified to suit your situation.
How does it work?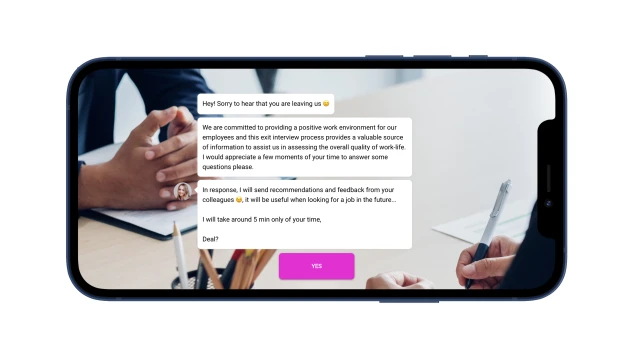 The bot is activated by a link or automatically by an event in your system and starts a dialogue.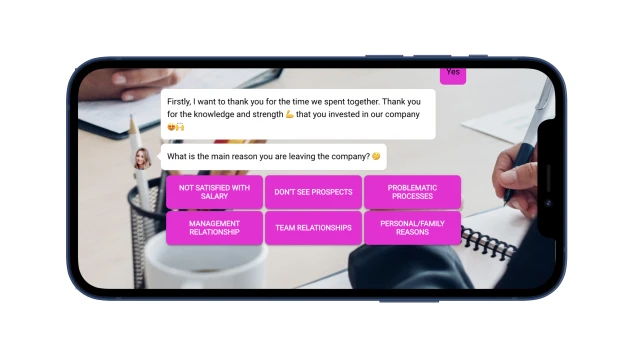 After the introductory information, the bot offers to choose the reason for leaving. You can add your own options or remove inappropriate ones - this is easy to customize the questions in a way that fits your situation.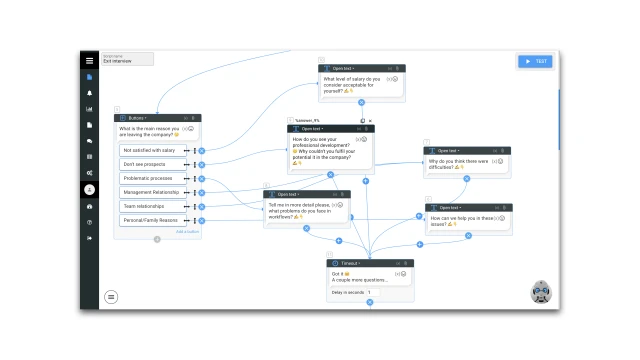 In order for you to get more details, the employee must fill in the fields with detailed explanations.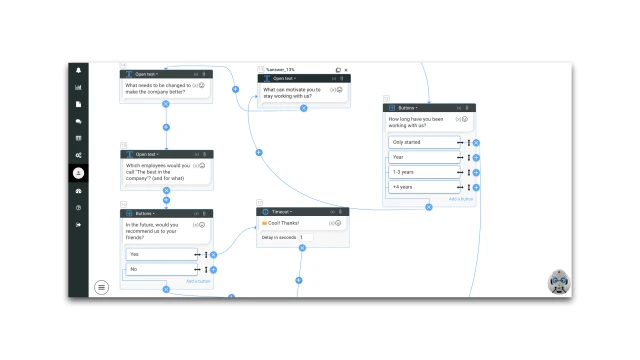 Then the bot asks for detailed feedback about working in the company: what motivated you, what needs to be changed, etc. the employers can add their own questions, change their places or remove unnecessary ones.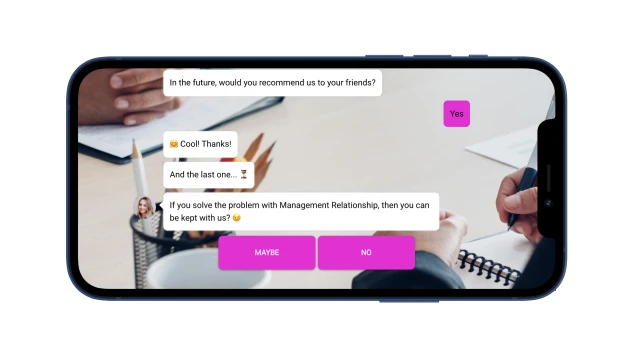 If you intend to keep an employee, the bot will ask about this as well. Either way, you can get feedback. All information will be sent to you by directly.
What to do with this template?
1- Create a bot design - choose a background, avatar, and font.
If the message texts do not suit you, edit them for yourself. You can change the content of the blocks, delete them, and add new ones.
2- Set up notifications to your mail through the "Notifications" block.
You can view answers in the constructor or embed them in the content of the letter through the "answer" variables - with the block number.
4- Send employees a link to the bot or set up a script to run from your system.
If you have any questions, do not hesitate to contact us in
Telegram