Developer interview
The bot asks cutting questions, selects a candidate and makes a personal offer.
Usually, IT professionals do not declare that they are open to work publicly, and most likely, they do not send resumes to another companies. Moreover, IT professionals are not always ready to talk on the phone.
Therefore, we have come up with a bot that will help you find valuable candidates, respond to them quickly and review your offer. This can be done without personal contact.
How will the bot solve these problems?
You can set up an advertising campaign with a link to a bot that will engage the candidate in a dialogue and lead them through the desired scenario:
Find out the main dissatisfaction in the work.
Presents the vacancy and makes a personal offer based on the candidate's answers.
In one click, it will save the name, contacts and send it to you.
When is it especially useful?
It is important to respond quickly to the candidate.
You launch advertising campaigns to search for candidates.
You are looking for employees using ads and want to understand the effectiveness of this method.
Difficulty level and setup time: depend on how the bot is activated; if you decide to integrate with job sites, contact us for help.
Versatility: suitable for searching for specialists for complex vacancies and for mass recruitment.
First of all, you need to choose a way to activate the bot: place a link in the job description, set up integration with the job site, or set up an advertising campaign with a link to the bot. When the user performs the required action, the script for selecting suitable candidates is launched.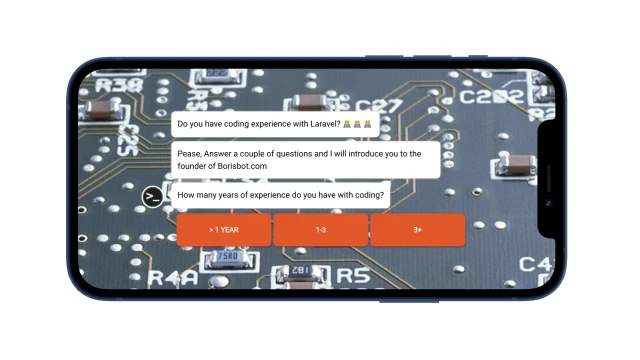 The applicant answers questions about his work experience. The bot finds out the tasks that had to be performed and the main dissatisfaction in the previous job.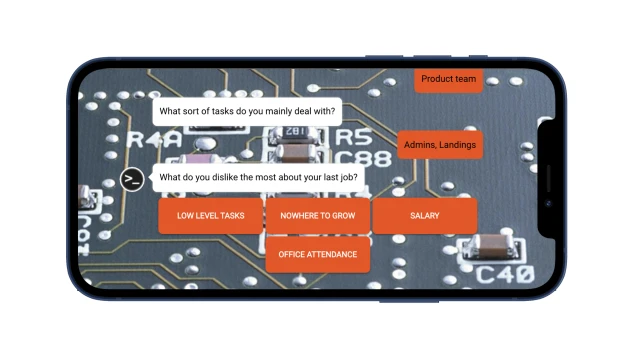 Furthermore, the bot talks about the possibilities of working in the company, registers the user in the system and offers to leave his data in order to transfer HR. The bot will send all the information directly to the mail of the HR specialist.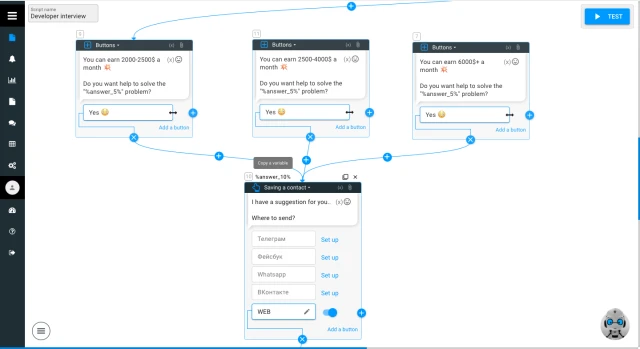 What to do with this template?
1- Create a bot design: customized questions, choose a background, avatar, and font.
2- Set up notifications to your mail through the "Notifications" block. 3- Add the "answer" variable (user responses) to your email and email content.
4- Decide how users will run the bot and set it up. On the website - place a link or a QR code to the bot where your target audience may be interested in your vacancy.
If you have any questions, do not hesitate to contact
Telegram