Knowledge center assistant
Chatbot helps to find the necessary content in the database: about the product, business processes, colleagues and rules.
If you do not regularly use the acquired knowledge, then you will forget everything very quickly. We made a bot prototype that helps you quickly find the necessary information about prices, about the product, about responsible people.
When is it especially useful?
You have a large product range that is constantly changing.
You have a complex product and many educational programs.
Your offices are remote and it is important for you to synchronize information between them.
Difficulty: medium
Setting time: 4 hours
Universality:
high
—
suitable for any knowledge base, client-side or not
—
it doesn't matter
How does it work?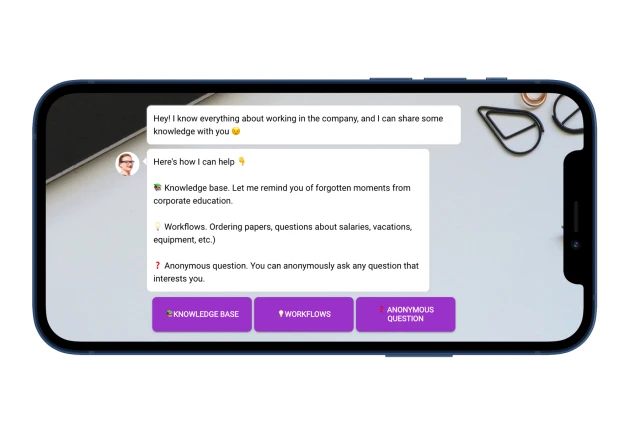 We usually recommend placing such a bot in the company's corporate messenger in TG or Slack.
This script can be the main menu where all other scripts end.

The script can be divided into separate links. Create QR codes for this and run them in different places in the office. Talk about the rules of work in the premises, safety rules, remind how to work with the equipment.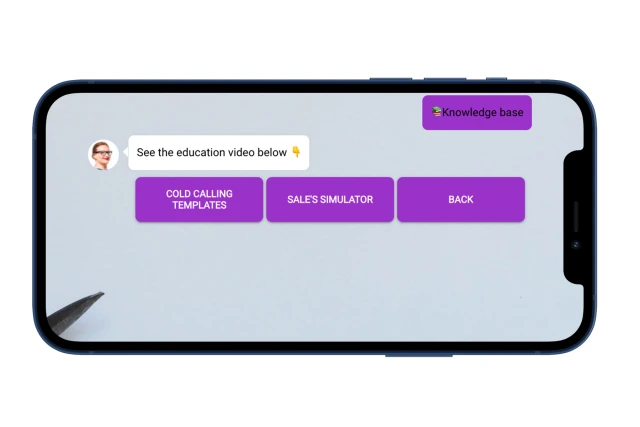 In the knowledge base section, you can make other subsections. For example, about the company's products, employees, sales, document management.
And further, having specified the user's request, he can form a response. The answer may be: a finished script, a video, a link to a file on your local drive, or a meeting with a qualified person.
You also have the opportunity to upload your database as Excel, and the bot will search for keywords.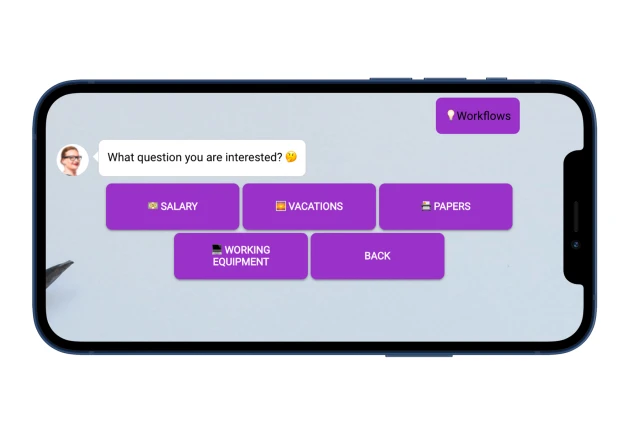 The bot can be connected to solve typical tasks in HR:
Registration of holidays
Work with sick leave
Ordering references
Employee development program
The bot will be able to collect the necessary data, prepare and approve documents, notify the company's services.
The bot is easy to integrate so that it shares data with your systems.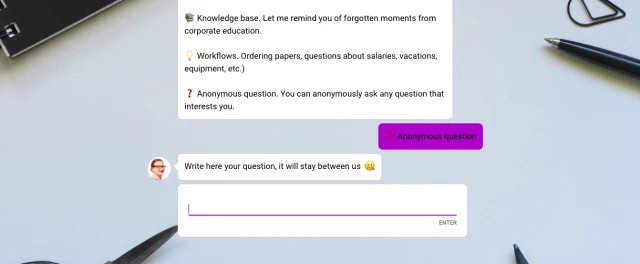 Separately, you can set up an anonymous hotline for employees. The browser version of the bot is ideal for this.
If everything is presented correctly, then you will begin to receive questions that never reach HR:
- about problems with the manager
- about problems in the team
- about personal dissatisfaction
In addition to prompt assistance to employees, you will also begin to better understand what is happening in your company.
What to do with this template?
(these are our recommendations, but you can do everything on your own)
Conduct some interviews with employees and create a FAQ sheet.
Copy the template and customize the first 5-15 scenarios.
Setting up messengers where the bot will work for you.
Create a registration script that will talk about the features of the assistant.
Launch a mailing list for employees.
Get query statistics and refine scripts for them.
If you have any questions, write to us on
Telegram