Real estate quiz
It qualifies leads, discloses the benefits of housing and passes applications to the sales department.
Clients come to a real estate site with different situations and requests. And everyone needs to offer a solution that will close his goal.
How will the bot solve this problem?
It will collect information about the client.

It will talk about offers in the context of the goal of each client.

It will send contacts to managers.
Difficulty level: easy
—
any user can create the bot.
Setting time: 2 hours.
Versatility: high — the template can be applied to any services for collecting leads on the site.
How does it work?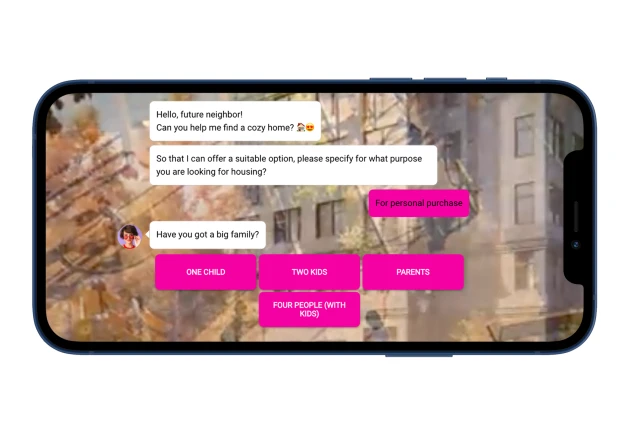 The bot is embedded into the site as a widget and is activated by a trigger message. When a visitor enters the site, the bot engages him in a dialogue and segments him with clarifying questions.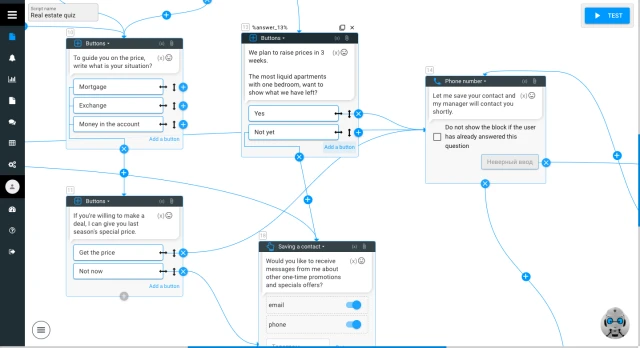 Then the bot finds out whether the client is ready to discuss apartment options. In case of a positive answer, he asks to leave his phone number for the manager to call. If the client is not ready to communicate right now, he offers to leave contacts to receive special offers. All new applications are sent to managers' mail or directly to the CRM system.
What to do with the template?
Add a template to the project.

Decide how users will run the bot. If on the website, place the widget on the site and set up the launch of a trigger message through "Event on the site" in the constructor. How to do it — see here. If with a message in the messenger, add the bot on Telegram/VKontakte/Facebook, and specify "Default script" in the messenger settings.

If qualifying questions do not suit you, edit them for yourself. Think about what kind of lead magnet to offer to the client — to benefit him right in the bot. You can create different scenarios for the respective target audience segments.

Set up notifications about new applications to your mail or messenger through the "Notifications" block. Or make an integration with your CRM system — contact us for help.

In the "Analytics" section, set up script reports.

Test the bot.
If you have any questions, write to us on
Telegram
.